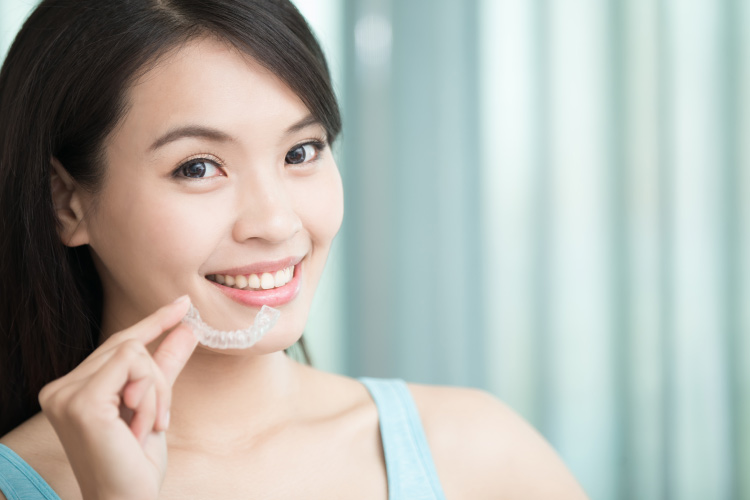 If your smile has mild to moderate alignment issues, you are likely a great candidate for Invisalign! Compared to traditional metal braces, Invisalign® makes it easy to care for your teeth and smile with confidence.
How Does Invisalign Work?
Invisalign is a brand of clear aligner therapy. Unlike regular braces, clear aligners are removable, so you take them out while you eat and brush. Thanks to the clear plastic design, they're also not as noticeable as metal braces. How long does it take to get your dream smile? It depends on what the treatment is fixing and how consistently you wear your Invisalign aligners.
Your aligners will be custom-designed for your particular smile needs. Every two weeks, you switch to the next aligner in the treatment as your teeth become straighter. At Greenway Dental, we'll give you multiple sets at one time, so you don't need to come in all the time. For best results, you need to wear the Invisalign aligners for at least 22 hours every day.
Caring for Invisalign
Because you don't wear the aligners while you eat or brush, it's easier to care for your teeth. You do need to clean the aligners, as well. Rinse in lukewarm water whenever you remove them and wash twice a day. You can use soap or other products like denture cleaners. Just don't use toothpaste since the abrasives can scratch them. We can provide lots of hygiene tips when you get your set.
Who Is a Good Candidate for Invisalign?
Clear aligners work best for people with mild to moderate alignment issues. Invisalign can fix overbites, underbites, crowded teeth, and other similar issues. Are there any other cases when Invisalign isn't the best choice? Your teeth need to be in good shape, so you can't have any untreated cavities. You should also be free from gum disease. Dr. LaChance will assess your health during the consultation and let you know if Invisalign will work for you.
Getting Invisalign at Greenway Dental
If you want to straighten your smile without braces, come talk to us about Invisalign! We can answer any questions you might have and discuss costs. We have many flexible payment options. To set up a consultation, contact us at our Minneapolis office.